/ My Place: a CAT, Mahindra, and Ducks
#1

Joined

Feb 10, 2007
Messages

8,233
Location
Tractor

Mahindra 6520 4WD
I got tired of adding posts and photos to my various project threads, so I started a "master" thread here.
One last time, here is a link to flood photos from the last two weeks..........
http://www.tractorbynet.com/forums/rural-living/237303-texas-spring-summer-thread-636.html
post #6351.
It's been so wet here, I haven't been able to burn the debris pile from April's tornado. So, today in the MUD, I decided to clear out some elm and sweetgum trees to make room for a new, huge, burn pile. It's behind the duck pond and spoils pile.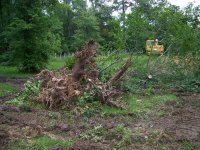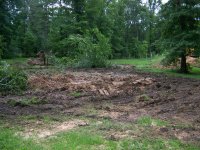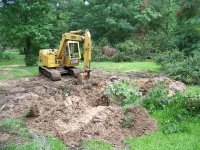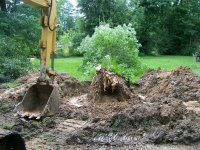 What tickles me most is this photo...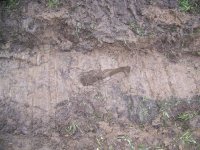 My foot sunk 4 inches deeper than the CAT's footprint. Being in the bottom of ponds is why I bought the CAT. The photo just proves the CAT will be okay where ever I can walk. A couple of steps over, I had to stop and pull my foot and boot up from over 6 inches of muck. I almost fell over, carrying the camera.
The Big RED Beast had the grapple on the FEL to move the cut up trees to the new burn pile. She did alright in the mud, but with a load in the grapple, she sunk down too far. So I need to speed up my plans to buy a hydraulic thumb for the CAT. Basically the Beast just carried my camera, chain saw, saw supplies, and my water bottle today!
I bedded the CAT down for the night, on the duck pond's spoils pile.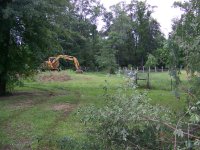 The steel, green and white post fence had four feet of water there a week ago Thurs. So I know the CAT will be dry, bedded down there.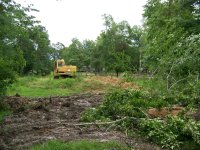 hugs, Brandi