/ Portable generator powering most of house in power outages.
#31
Joined

Dec 1, 2011
Messages

174
Location
Tractor

Kubota Grand L3130
Added fuel storage to the system. Got a 55 gallon drum that had 5-W20 oil in it before I got it. I used 2 or 3 gallons of gas to thin the remaining oil and dump it out of the drum.
I used the Fill-rite hand pump setup. It produces more gallons per stroke than the crank style. I have a 5PSI 2 way vent on it to keep expansion and contraction from effecting the structure of the barrel. It took $20 in piping parts to attach the 3/4" pump to the 1" filter then back to 3/4" for hose hookup. All together it's about $300 for the setup.
I filled it with 100% ethanol free gasoline, treated with PRI-G for storage.
I plan to use the fuel for small engine stuff around the house. Once I have it 1 year I will empty whatever is left into my truck and refill and retreat the new fuel to store for another year.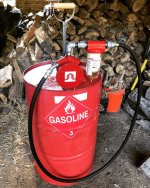 I will be doing the same with a drum for diesel.
Last edited: