/ power beyond flow to 3rd function valve - before vs after the rear-remotes valve?
#1
Joined

Sep 15, 2021
Messages

214
Location
Tractor

kioti ck2610
I'm installing a power beyond. I'm asking this question from a generic point of view, as I want to understand the hydraulic system as much as I just want to get it done (I find that sort of understanding will pay dividends later). That said, my unit is a ck2610, with factory loader and dual rear-remotes/backhoe.
My question is - most instructions say to put the additional valve in series between the loader and rear remote valves. Clearly this works, but couldn't I also put the new valve in between the rear-remote valve and the ultimate connection to the tank?
in my tractor, the line between loader<-->RR is the hardest to get to by far; whereas the line from the RR<-->Tank is very accessible.
The 3rd function valve has the least power requirements of the valves in my loop; shouldn't I prefer to put it _last_ on the power beyond loop, then, as that's where the pressure drop will be the highest?

Put differently, all other things equal, putting it in between the loader & RR valves would cause a minor pressure drop to the RR.
Here's how I see the flow. I'm labeling things as to the "location" they go; presumably the "engine" line is the hydraulic pump, and "transmission" is just the Tank reservoir. Note the "T" stamped in the metal is sort of ambiguous which port it refers to. It looks like it is the Power Beyond port; maybe T refers to tank, when no power beyond equip (like my RR's) is installed? Also note, on CK10's the HST is driven by the hydrauilic pump, that's why the pump has 4 hoses.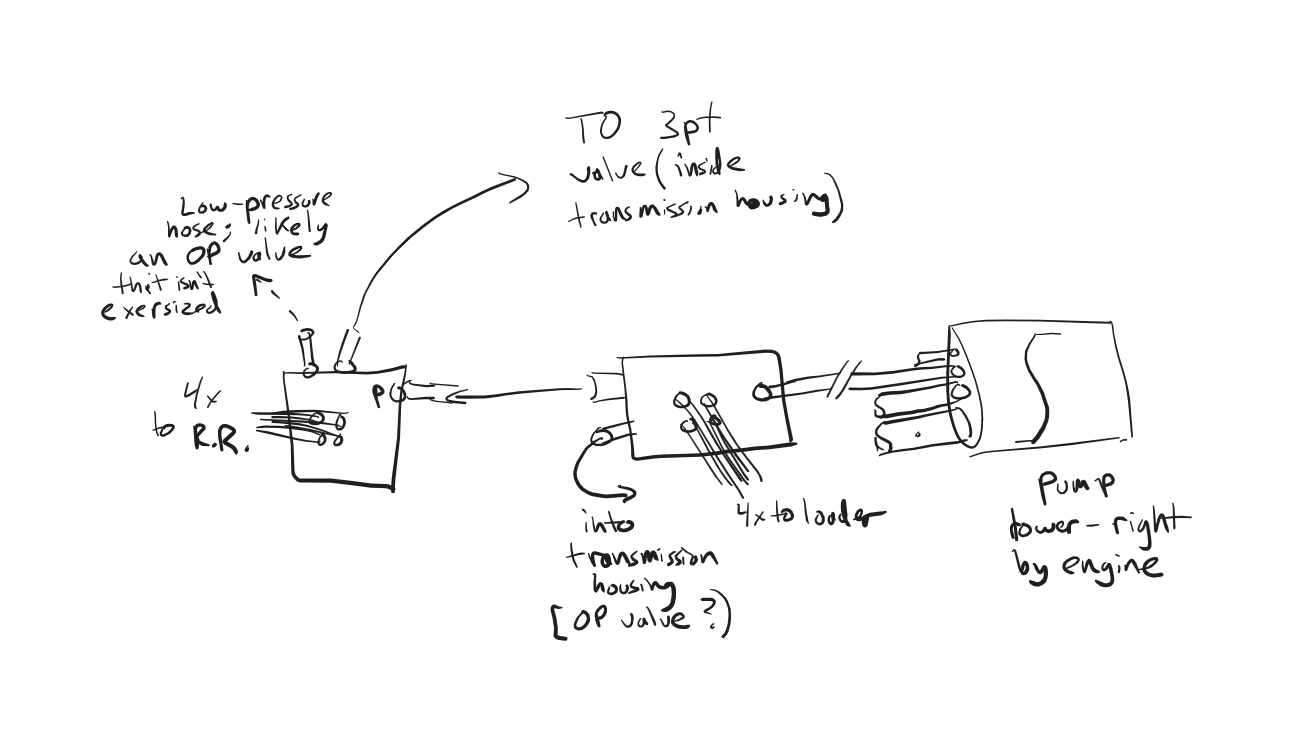 In my specific unit, here's the LOADER valve, with 7 ports:
I assume the "to trans" line is JUST the over-pressure valve output? No flow should go through that unless flow is stopped (say cylinder bottoms out), correct?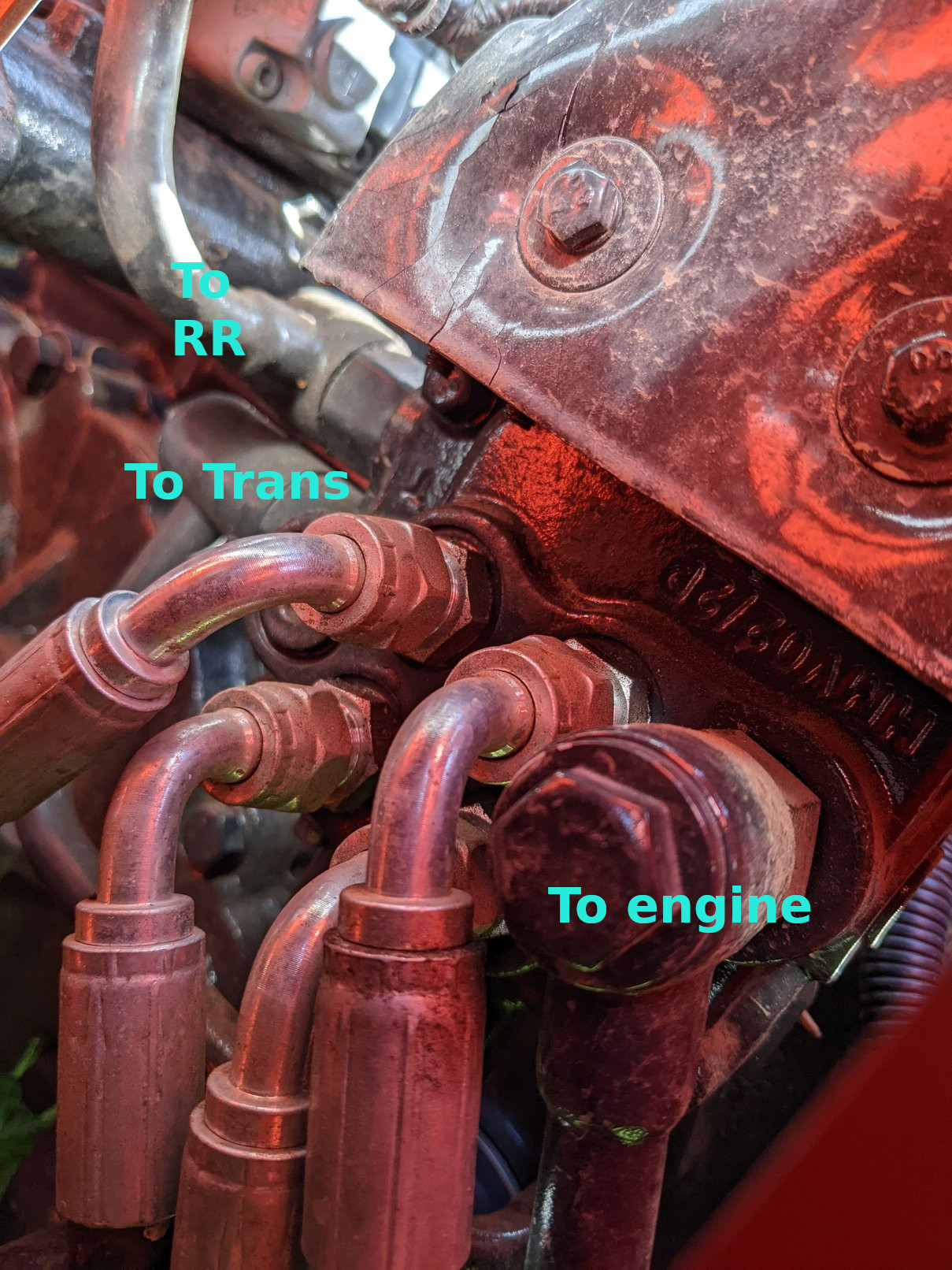 And for completeness, here's the RR valve. Seems simple enough. Although I am a little confused by a 2nd line going to the transmission housing (partially hidden; upper-right here with green label). Seems like even an OP valve would need pressure-rated tubing? What is this hose used for?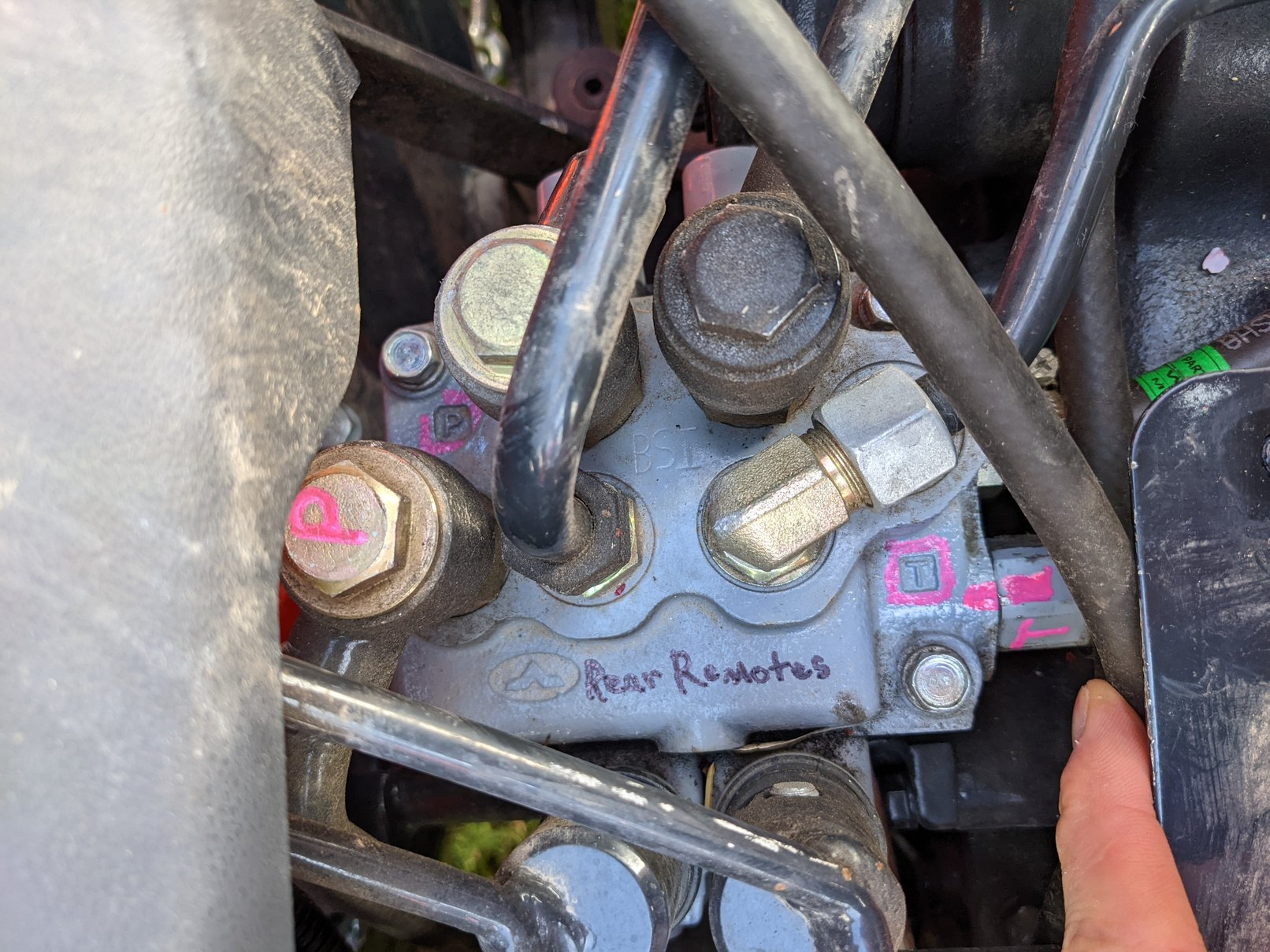 Last edited: