New Signature Cut Series Mowers by Cub Cadet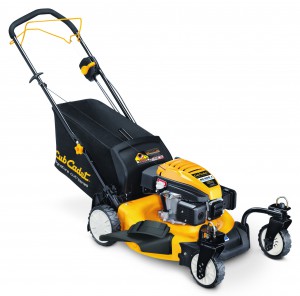 CLEVELAND, Ohio – Your lawn is your canvas, it's an extension of your home. It's where you go to relax, enjoy family, friends and the great outdoors. That's why you put so much care into keeping your lawn looking its best. It's also why Cub Cadet makes products that achieve the best possible results. The new Signature Cut™ Series of walk-behind mowers from Cub Cadet sets a new standard for walk-behind mowers by bringing together the best total package of performance and convenience features – all to ensure homeowners enjoy the experience of maintaining a beautiful yard.
The ultimate in handling and control
The Signature Cut Series delivers the ultimate in handling and control no matter what challenges your yard presents. Front caster wheels give you remarkable maneuverability to get around curved landscaping and into tight, hard-to-reach places. For more wide-open areas, the caster wheels also feature exclusive locking ability for straight-line mowing. Or, if your yard includes uneven or hilly terrain, the high rear wheels available on select models are the smart choice to deliver smooth operation.
Additionally, exclusive six-speed variable drive system on self-propelled units lets you set your speed to match terrain and personal preference.
The best experience
Cub Cadet designed the Signature Cut Series to be a joy to own and operate, from the very first start. With Cub Cadet's SureStart® Guarantee (on select models), no priming is ever necessary. Your mower is guaranteed to start in only 1-2 pulls. Electric start is available for the ultimate in convenience.
To improve the overall experience and provide a custom fit, all push and self-propelled models have adjustable ergonomic handles with comfort grips.
Coupling convenience with peace of mind, Cub Cadet's Signature Cut Series is the only walk-behind line in the industry that includes a 3-year warranty on all models.
Beautiful results
All Signature Cut Series mowers come with 21" deep dome steel decks that have been significantly redesigned and enhanced to assure the best cut in the industry. The deck is designed as a completely symmetrical circle, absolutely free of any flat areas. This creates the strongest vacuum for grass to circulate freely. Additionally, the Cub Cadet cutting blades create more air lift, further improving circulation. The result is no clogging, better mulching and easier side discharge of the clippings. The deck is also designed to extend beyond the wheels for maximum trim ability.
The Signature Cut Series high-performance cutting decks offer a choice of cutting options – bagging, mulching or side discharge capability. Adjustment of deck height is also made easier with dual levers that easily let you set your cutting height for all four wheels.
"People who take pride in their yard want high performance, premium quality equipment that is a joy to operate," said Jeff Salamon, director of marketing for Cub Cadet. "With that in mind, we've reinvented the walk-behind mower from the ground up. The new Signature Cut Series is designed to make the mowing experience as enjoyable and effortless as possible, so that owners can enjoy the fruit of their labor – a beautiful lawn."
Cub Cadet's new Signature Cut™ Series includes the SC 100 push mower and the SC 500 self-propelled mowers. The breadth of product across the two categories allows homeowners to select one that best matches their needs in terms of price and features. To find the right fit for you, visit CubCadet.com.
For complete product information or to learn more about the full line of premium quality mowers available visit www.CubCadet.com.