/ 20x20 Pole Barn Project
#1

Joined

Dec 7, 2011
Messages

8,608
Location
Tractor

Kubota L3200, Deere X380, Kubota RTV-X
CHA Pole Barns of PA will be here in 2-3 weeks to build a 20x20 pole barn for us. I just got the building permit approved, and have begun site prep. Roof trusses arrived Friday. I will update this thread with progress as we go along.
Here are a couple shots of the site and grading.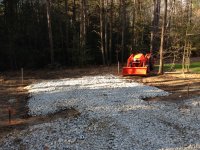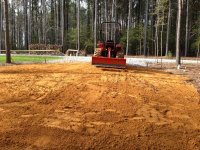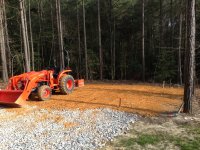 After removing about 8 trees, I stripped the top layer of soil/matter off the area with my box blade. The sub-soil was muddy in spots, due to recent rains and the tree clearing activity, so I put down a bed of #3 over the entrance area, and then on the interior of the barn floor area (about 16" inside the post line so that the gravel would not interfere with drilling posts). I also lined the edges with some concrete rubble I had (again well inside the post line). Then I brought in 16 tons of compactable fill and spread that over the gravel. I packed it with my L3200 tires, then smoothed with box blade, then drove over with my SUV, then checked level and reworked a little. We're getting some solid rain from Monday-Wednesday, so I will let that settle the fill bed a little more. Then bring in a final 8-10 tons of fill at the end of next week to build up the low end more (the goal is to have no more than 6" drop from high to low per CHA requirements). We'll make up any remaining slope with skirt boards on the outside, and then level with #78 gravel (self compacting) on the inside prior to pouring the final floor.
Here are a couple shots from the truss delivery.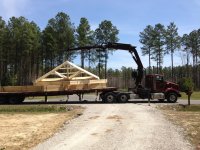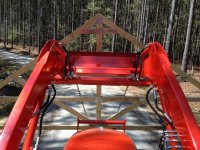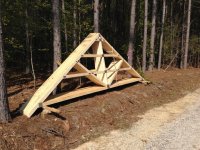 The driver dropped the bundle near our driveway entrance since I didn't have the heart to make him back 500 feet down a curvy driveway. I then carried them into the site with my tractor, 3-4 at a time, and stacked them across our driveway from the barn site. In retrospect, I probably could have forked the entire bundle in one shot, but was not able to judge the bundle weight properly and didn't want to lift a 22 foot wide load to find out if it was doable. Especially since I had to lift them 5' off the ground to clear my entrance gate posts! The trusses seem to weigh 100-120# each, since I could lift and move them individually, but again the 22 foot length makes it hard to judge.