Joined

Jun 4, 2005
Messages

7,538
Location
Tractor

Getting old. Sold the ranch. Sold the tractors. Moved back to the city.
I've been looking for a 9-10 ft wide drop seeder for awhile. No luck on eBay or craigslist or locally. There were some used 10 ft Gandy seeders on eBay but the price was too high for my tastes. And used Brillion seeders are way out of my price comfort zone.
I had two 5-ft wide grass seed boxes left over from a grain drill restoration project of a few years ago. These are JD boxes that were installed on the Minneapolis Moline P3-6 drill that was restored.
So I welded a frame to carry these boxes and added connections for the 3pt hitch on my 2008 Mahindra 5525. Assembled the ground drive assembly for each box using size 40 roller chain and sprockets. Found the drive wheels on eBay for about $30 (pair) and bought the rubber at Tractor Supply. Designed a pair of seed chutes (two bounce design) out of 1/8" aluminum sheet to spread the seed evenly under the seeder.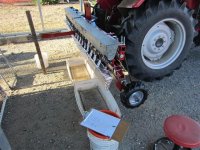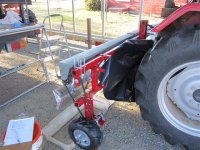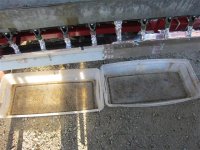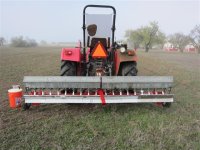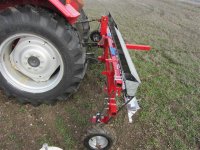 Used a lana vetch and annual rye pasture mix to test the seeder on 2 acres. No problems. Just kept the ground speed fairly low (1.5 mph or so) so the drive mechanisms wouldn't be overtaxed.
Spent about $350 on this project.