Joined

Jun 4, 2005
Messages

7,538
Location
Tractor

Getting old. Sold the ranch. Sold the tractors. Moved back to the city.
Backing on is the safest way to go. Many guys around here have them made into a dove tail to help with the angle. Its going to give you some pucker factor unless you and find a ditch to put the rear wheels of the truck into or at your place you could get a few loads of clay and make a earthen loading dock to back up to.

Chris
Pucker factor--how about this one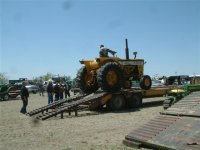 That's an 11,000+ lb Minneapolis Moline G1000 pulling tractor unloading at the Pioneer Days Rodeo in Guymon, OK in May08. He's backing that beast down 10-ft ramps-- those ramps can't be more than 18" wide and look pretty beat up to me.