/ More M59 repair fun.
#1

Joined

Sep 13, 2009
Messages

654
Location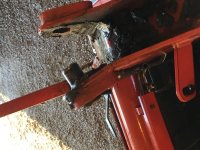 not sure why pics are sideways, but if you click on them they expand straight.
So the left side bucket cylinder top pin broke about 2 months ago. Broke right in half at the grease port. No biggie, because half of it slid out a little and I caught it. Today, not so lucky. Didn't notice that the other one broke in half, and half must of dropped out and boom. The cylinder pulled loose from the half of pin as it contracted, busting the steel line that feeds the hose and bending ears on the boom, and dousing me in about a half of gallon of fluid. Limped back to barn and begun beating boom ears back in place and draining remaining fluid from cylinder. Fun.
To date, both pumps went at about 70hr, the back bucket cutting blade/teeth ripped off, I have a crack thats back around the top pin of the driver side stabilizer I cut out and welded once, leaking seal on either transmission main shaft or front drive shaft, also numerous leaks around hoses. 720hr.
The pumps I don't know, maybe a fluke. Cant really blame the bucket, just one of those things. But the cracks, and braking pins, and leaks are a little much. Ive ran numerous full size, owned a 580 L for 11 years with no major issue. I'm wondering If this thing is better off for landowners instead of using it for a business. Its a great size and can really move dirt but...