/ Sweepster Rotary Broom - rebuild and modification
#1
I'm going to start this thread a bit ahead of time so I can actually get input along the way rather than just showing finished pics as there are some areas I am less certain of. I have started taking apart bits of it but probably won't get seriously into it until Spring/early summer when it warms up more as it is sitting outside, currently in a blizzard...
So here it is. Definitely a "project" and I knew that when I bought it for cheap. Got it off a farmer who said he was the second guy to own it and not get around to fixing it up. So I told him "Guess I'll be the third then."
That was a year and a half ago... But I am getting a start on it and trying to move it along and figure out some of the puzzles along the way.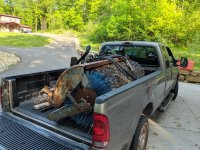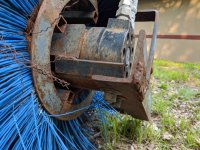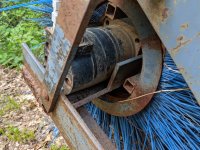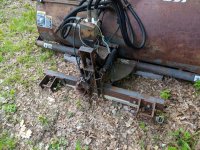 It is hydraulically driven, so I need to set up a PTO pump for it as the internal tractor hydraulics are not sufficient to handle this. More on that later. It had an unusual mounting setup that I think was modified for a 3-point. It does pivot left to right hydraulically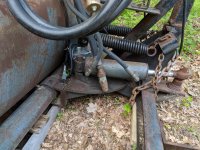 It does that via this 12v electric diverter situated up on the mount that diverts a little flow momentarily when you press a switch.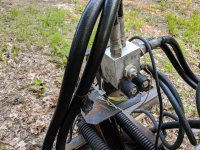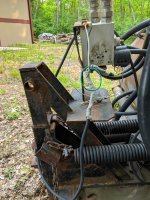 I need to figure out what works and what doesn't - mainly the hydraulic motor and the diverter. All the hoses need to be replaced, but it will all need to be re-plumbed in any case as I set it up on a SSQA plate for my FEL. I was thinking of using my 3rd function to drive the angle cylinder but decided that the diverter makes more sense as it is less stuff to connect and all the bits are already there. Of course I need to make sure it works first, or fix it. The motor is probably the bigger concern as it would be very expensive to replace, but I can't dig into that until i can drag this inside and tear it all apart as it is mounted to the brush assembly, so that all has to come off first. I have the owners manual and parts diagrams from the manufacturer who has been very helpful answering questions and sending that manual PDF along, so that helps a bunch on figuring things out.
And a few more final photos of the mount/pivot system