/ Favorite Subcompact Color? 😁
#31
I have actually pushed many hundreds of wheelbarrow loads of firewood around a 1 acre lot, I grew up on a lot that size. Subcompacts were not really a "thing" back then, but we got a garden tractor when I was in my teens, which with a wagon was honestly more than we really ever needed for such a small lot.

And don't take this as some "my tractor is bigger than your tractor" BS, because it's not that, at all. I think subcompacts look like great fun, and could be useful for many tasks, my objection to them is 100% based on cost/value. These little subcompacts run nearly the price of compact tractors, but are so much less capable. For the aforementioned 1 acre lot, you could have a nice garden tractor, a wheelbarrow, a zero-turn, AND a snowblower, for much less than the cost of some sub-compact tractors that don't do any of those individual jobs nearly as well as those individual purpose-built tools.

But on my original point, I paid less for a new 60" JD 757 ZTrak zero turn + a low-hours JD 855 MFWD + model 52 FEL + a Woods SB64S 3-point snowblower, than the cost of one new subcompact, at the time. It was a simple decision, for me, and so I have trouble understanding most cases where people go the subcompact route.


True! They wouldn't be making them, if no one was buying them. I also see a lot of guys with jacked up trucks wearing $5k - $10k in expensive offroad tires and suspension work, who will never leave the pavement. The fact that it exists and sells, by itself, is not a very good argument for its sensibility.
I think there are a number of things you are leaving out of all of the above.
1. You are comparing a bunch of used stuff to a new tractor
2. You are comparing the price of a New JD SCUT, pricey green paint, I personally don't see the economic reason or value of buying expensive green paint. Especially the size of your tractor for 4 acres, really!
Name a couple thing you can do with your CUT that I couldn't do with the SCUT pictured below, just a little slower? Just name 2 or even one, on your 4 acres.
4. For the guys on here saying a SCUT is not as practical, cost wise, as a CUT, have you ever even owned a SCUT? If you haven't I really don't care about your opinion of a SCUT. I have both a CUT and a SCUT and honestly having a real hard time parting with my little Case IH SCUT because it is just so useful and I will use it to teach my grandkids how to tractor.
5. My BIL has a JD 3032 and he mows his 1.5 acres with it. He doesn't garden, short driveway, pretty much sits in his garage except for mowing. Can you say, compensating for a lack of something!
6. Garage space, weight on my yard, fitting in my garage, price (Compacts do cost more why pay for what I don't need?), I don't need a ZTR I have a SCUT, it does everything in one package and less equipment to maintain. I could go on but that would be wasting my time on Thanksgiving morning. You do you, don't criticize other's decisions and we won't criticize yours.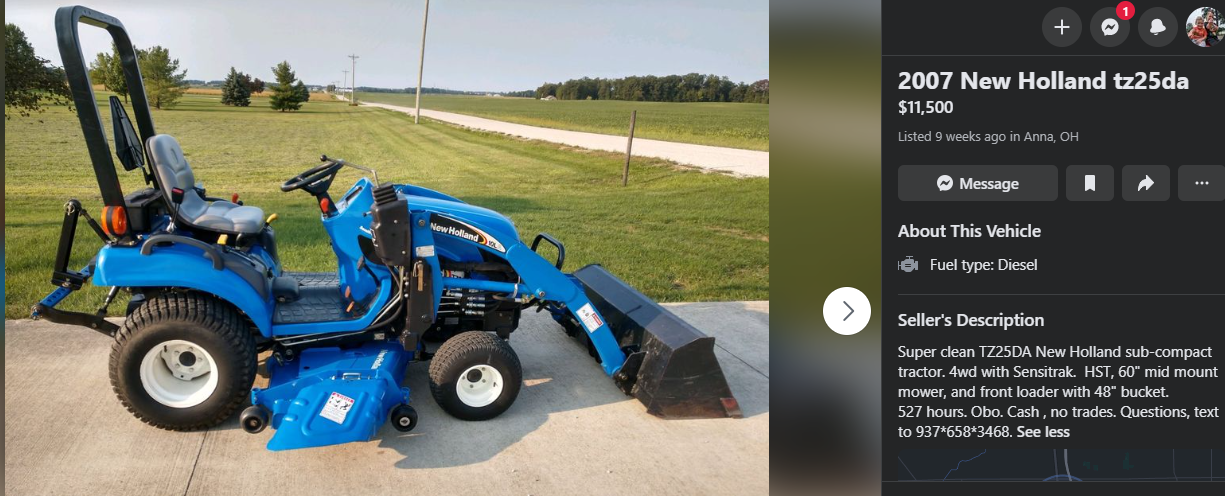 Last edited: