/ How do you carry your chainsaw ?
#101

Joined

Apr 1, 2007
Messages

6,087
Location
Tractor

Kubota L3010DT, Kubota M5640SUD, Dresser TD7G Dozer
Gordon gould, How do you like the farmi and I was wondering if those ice changes snag sticks and brush and drag it up around the fenders?
I like the Farmi winch very much and it gets a lot of use. Other than spring I am in the woods all the time with it. A good winch like a Farmi will last you a long long time w/o trouble except an occasional cable replacement. I don't have trouble with the chains picking up sticks and brush that is big enough to be a problem and bash stuff up. They don't really pick up much small stuff either that doesn't fall off by itself. There are not dents in my fenders after 17 years. But I am careful also. The chains are mounted loose so the shake themselves clean. I don't think the ice picks make them any more likely to grab sticks than regular chains. They do collect leaves in the fall though but the leaves tear off when the chains start to work. The leaves look like a worse problem than they are.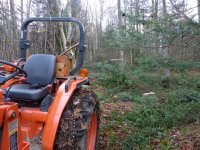 I could not operate at all in the winter w/o goods chains and the rest of the year they give you a lot more traction getting up over slippery roots and smooth wet rocks and such. Also help protect your tire side walls.
gg