/ Mounting tire chains
#1

Joined

Jul 4, 2015
Messages

9,974
Location
Tractor

Branson 8050, IH 574, Oliver 1550 Diesel Utility (traded in on Branson) NH 8160. Kioti CK2620SECH
I put chains on one tractor yesterday, there are lots of ways to mount chains I thought I would share the easiest way I have found to do so.
1) lay the chains out with the outside, the ground contact side facing up
2) tie a short cord to the side chains, the length will depend on your tire size, on mine I end up with a V shape about 3 feet.
3) back up to your chain, take the cord and hang it on the tire treads.
4) drive forward slowly, stopping to spread the chain out on your tire.
5) continue doing this till you have rolled the chain up on the tire and have working room at the rear of the tire
6) your chain should be well centered on your tire and have very little slack.
7) fasten your chains.
8) step back and check out your work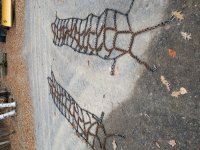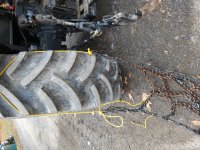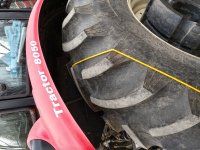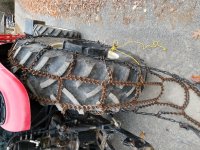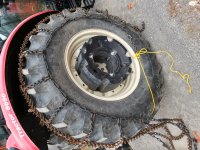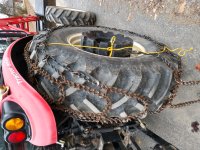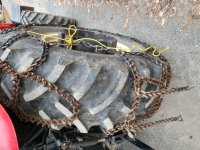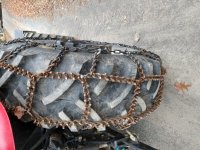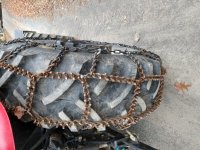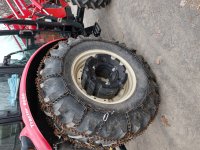 This is the easiest way I have found to do chains, if you are doing this in a shop and can jack up a wheel it works good than also.
On the smaller tires I have jacked them up and chocked the other side to do this, then simply kneel down to do the fastening.
If you find that your rope V is to long when the chain is started up simply stop and leaving your other cord on run a new V and snug it up remove the old and continue. Using this method one person can install heavy chains on large tires. Without straining and hurting themselves. If you take your time after using this method a few times you will find that after your chains are laid out and untangled you can mount them in well under a half hour each with help spreading the chains accross your tire and telling you when to stop it's even easier and you are not fighting with the weight of the chains when fastening the side links.
The shorter the V that works for you the easier to line up and fasten the side links with all the slack taken up by the chains, no fuss no muss.
This is most certainly not the only way, but it is the easiest way I have found.
Lou
I have no idea why these pictures all rotate when I post them.