Joined

Jan 16, 2017
Messages

14
Location
Tractor

JD 790
Hello,
This is my first post, but I have reading posts from this site for quite some time. Its been very helpful.
I'm in need of a bit of advice. I have a JD 790 with a 70 FEL. I recently purchased a JD 7 backhoe to put on it. I purchased it knowing that I had to install the power beyond kit to my tractor. Its JD part number BM18005. Guess what....turns out that part is obsolete! I've searched everywhere for one and have had no luck. I have a search pending incase one pops up on Ebay, but I'm doubtful.
It doing some research, it appears like the kit was rather 'simple', so I am contemplating trying to build the kit myself. It looks like I need to tap into the supply side of the rockshaft and then plumb in a return to the rockshaft housing. I found a great post on anther site that seems like I could use stock hydraulic parts to build the supply and return lines.
My question(s) is relative to the connection to the rock shaft. The power beyond kit that JD used to offer hooked up to the rockshaft using a hollow screw and banjo connection on a hydraulic tube. It appears that I can get the hollow screw still (part M800853), but I need a banjo connection to a JIC that would fit the hollow screw. Does anybody know where I could get one? My plan was to connect to the rockshaft using the banjo to JIC, then use stock hydraulic hoses and fittings to create the power beyond lines. IS that a bad plan, or should it work? here is an image of the power beyond kit that I got from another post on this forum.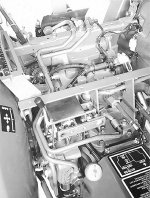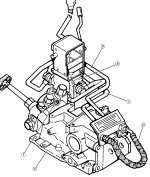 Appreciate any help that you can offer.
Thanks,
Jeff